Development Team
iEntertainment Network, Inc., (OTCBB:IENT), a public company founded in 1995, has been primarily known for Military Simulation games including the online World War II Simulation, WarBirds, www.TotalSims.com.
In 2012, IENT, noting the success of the Cabalas Big Game Hunter series of games, and the DeerHunter Reloaded mobile game, started looking at online outdoor action simulation gaming using simulation technology that IENT had been using for years. IENT's first effort was www.IENTOutdoorsUnlimited.com, a good game but not a significant commercial success.
IENT decided to make a mobile version focused primarily on Bow Hunting given the success of a famous movie series, the Hunger Games.
IENT began searching for an excellent development team to help complete this objective. Over 7 development teams met with IENT, provided outlines of what they would try to accomplish. IENT asked for a demo of 3D landscapes for hunting.
Red Apple Technologies produced an excellent outline of a "Bull Hunting" game and produced multiple demo versions to demonstrate their excellence at terrains, 3D graphics, and hunting.
IENT made the decision to join with Red Apple Technologies to produce BowHunter2015, the first in IENT's Mobile Outdoor Action Simulations games.
Features of Mobile Outdoor Action Simulation Series of games
FPS Hunting Simulator for Android and iOS devices.

Detailed 3D terrains at least 2 miles on a side fully modeled with terrain features, trees, grass, and other terrain features.

Various species of animals to hunt that can vary with the geographical area and time of year.

Fully modeled hunting terrains of various regions of the United States

Weapons that can be customized as per player preferences.

In game options include: bows, arrows, sights, quivers, stabilizers, optics, and other real life hunting accessories customizable to player desires.

Customized player avatar with options such including hair color, face types, jackets, boots, vests and hunting glasses.

Trophy Room options to enable players to show successful hunts to other players.

Full social media integration

Customizable software module system so that new products, new weapons, new hunting regions and targets can be added easily.

Full upgrade and updates system with plans for monthly updates for six months after game release.
About Red Apple Technologies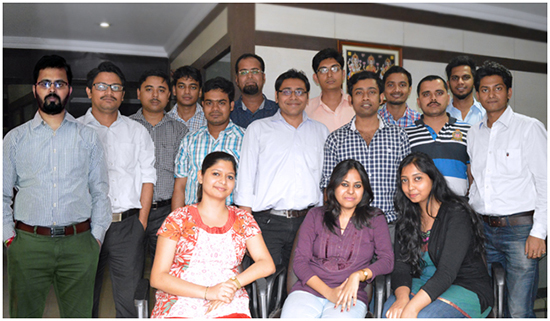 Red Apple Technologies (RA) is a known name in the mobile gaming industry. RA has, over the years, developed some of the most engaging and compelling mobile games for global audiences. The games are not developed just for the sake of it, they have a particular mission. The mission is to give their time's worth to the players and money's worth to the clients. They make sure that the mobile game and the simulation games are modeled to closely resemble the real world as much as possible. The levels in the games are well thought out meaning that the gamers do not have a dull moment. There are various customization options in each of our games.
Hunting is not like any other sport. It has a particular set of practices. The developers of Red Apple Technologies had to keep that in mind. They started with studying the minute details of how a hunter moves. Then they researched about the deer found in various hunting regions. The flora and fauna of the hunting regions was designed on actual images of the regions. The weapons were well thought and are actual replicas of models used by the real-life hunters. The levels were designed in the actual way the hunters react to various hunting scenarios. The development team had to take into consideration different types of gaming scenarios such as: day hunting, dawn hunting, dusk hunting and the outcomes were matched likewise. The game allows 360 degree view which is crucial in real-life hunting expeditions. The players can move about freely in their given environment while they look for the deer in the terrains.
After the conceptualization, the development for BowHunter2015 commenced. The development started with implementation of terrains on the mobile devices to achieve good end results. To imbibe the real-life feeling in the game, developers had to overcome many obstacles. It was tough to simulate and map the real time physics for various game components such as flight of arrows, actual movement of deer, effect of wind speed on objects, use of accessories such as binoculars, infrared, vision goggles, thermal, etc. These features were emulated after studying real life products. After lots of research followed by skilled development we were able to complete BowHunter2015 in 8 months.
About iEntertainment Network, Inc.
iEntertainment Network Inc., a public company on the Over the Counter market, (OTCBB:IENT), was founded by JW "WLDBIL" Stealey, in 1995 after his successful founding, growing, taking public, and selling of his first company, MicroProse Software from 1982-1993. Founded as Interactive Magic, IENT grew to over $23 million in annual sales within 4 years making Military Simulation retail and online games. IENT as some of the first massively multiplayer games on the internet with casual games from IamGame.com to world famous WarBirds, www.TotalSims.com, operating continuously online since 1995. IENT went public in 1998 and was sold to investors in 1999.
WLDBIL and a group of investors returned to IENT in the early 2000's in order to revitalize the company and grow it again.
IENT decided to build a franchise of Mobile Outdoor Action Simulation games started with BowHunter2015, the first release in this new series of games.
IENT expects to begin reporting revenues and profits, filing with the SEC, and moving the IENT public stock to a higher public marketing in early 2016 with the release of its second through fourth new mobile game over the period.
IENT development group is headed by WLDBIL, a CEO, who plays all his games, makes suggestions and recommendations focused on what players will understand and want in all IENT games. SPINDZ, (Dan Hammer, CTO,) is the genius in programming, servers, and listening to WLDBIL and translating ideas to the real development team for implementation. WIZKID, (Arnold Hendrick), has worked with the company and its predecessor, MicroProse Software, as the Game Producer/Designer of record to some of the most famous games produced by this team including F-15 Strike Eagle, Gunship, Silent Service, and more. WIZKID has been the designer who takes good game ideas and produces the real plans the programming team can implement.
iEntertainment Network Inc., is extremely pleased to have joined with Red Apple Technologies to develop BowHunter2015. IENT expects to maintain a long and fruitful relationship with the experts at Red Apple! Salute! JWS